Lorenzo Riccardi
Sapienza University, Rome, Italy
Supervising professor: Prof. Antonio Iacobini

Hagiographical Icons in the Byzantine Wall Painting of Calabria and Southern Italy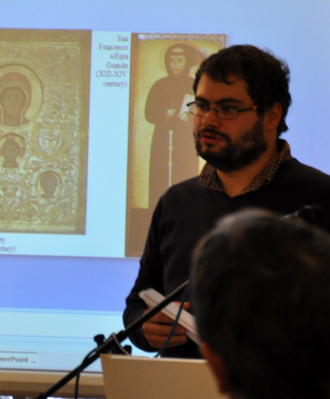 The hagiographical icon, also known as Vita icon or biographical icon, was wide spread in the 13th century, with several variants, in the Eastern Mediterranean and in Southern and Central Italy. According to some scholars, the nerve centre of this type of decoration was the monastery of St. Catherine at Sinai, where important panels are kept or whence some paintings, now in Cyprus and Greece, come from. In these cases, we are talking about icons on wood, generally of large size, in which the scenes usually run along all the four sides of the image of the saint. In Central Italy there are many panels representing St. Francis, especially in Tuscany and in the neighbouring regions: they were used to codify the figure and the image of this new saint just after his death. In Southern Italy it is worth remembering the two well-known large size icons representing St. Nicholas and St. Marina/Margaret, now kept in Pinacoteca Provinciale di Bari. This report has the aim of looking for the hagiographical icons in the wall-painting of some worship places in Southern Italy. In fact, such type of decoration seems to be spread especially in these regions. Well-known paintings are the two Vita icons of St. Marina/Margaret in the crypt of St. Margaret in Mottola (Apulia) and in the cave of St. Margaret in Melfi (Basilicata). At present, two undervalued paintings, recently uncovered in Calabria, enrich this frame of reference: we shall take a closer look at them in our report. In the "chiesa di Campo" of Sant'Andrea Apostolo dello Jonio (Catanzaro) there is a partially preserved hagiographical icon of St. Marina/Margaret of the early 13th century: it shows a particular iconography in the scene of the saint's life. A Vita icon could be the fresco in the church of St. Donato "al Pantano" in San Donato di Ninea (Cosenza), representing two unidentified full-length saints and two uncertain scenes with monks. At present, this would be an hapax in the Byzantine wall-painting in Southern Italy.